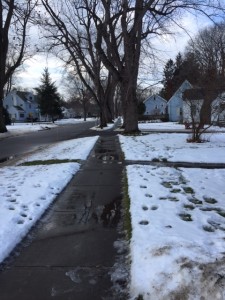 The 2015 National Community and Transportation Preference Survey, a national poll of 3,000 adults in the fifty largest metro areas, states that Americans ages 18-34 are 12% more likely to walk than drive. The survey was conducted by the National Association of Realtors (NAR) and Portland State University. It found that this age group also likes to live within walking distance of shopping and restaurants, more than any other generation.
The Millennial generation may have the higher numbers in this survey, but 48% of the American population overall prefers to live in communities where the yards are smaller and within walking distance of amenities.
Irondequoit is well known for its walkable, well established neighborhoods with beautiful tree-lined streets. The town fits right in with the reports finding. 85% of the participants said that sidewalks are a positive factor when purchasing a home. 79% place importance on being within walking distance of amenities and transportation.